What Are the Income Tax Brackets for 2021 vs. 2020?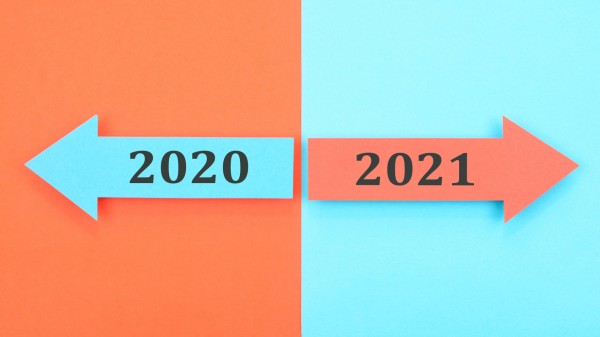 It's never too early to start thinking about your next tax return. For most Americans, that'll be your federal tax return for the 2021 tax year — which, by the way, will be due on April 18, 2022 (April 19 for residents of Maine and Massachusetts). The tax rates themselves didn't change from 2020 to 2021. There are seven tax rates in effect for both the 2021 and 2020 tax years: 10%, 12%, 22%, 24%, 32%, 35% and 37%. However, as they are every year, the 2021 tax brackets were adjusted to account for inflation. That means you could wind up in a different tax bracket when you file your 2021 return than the bracket you were in for 2020 – which also means you could be subject to a different tax rate on some of your 2021 income, too.
The tax bracket ranges also differ depending on your filing status. For example, the 22% tax bracket for the 2021 tax year goes from $40,526 to $86,375 for single taxpayers, but it starts at $54,201 and ends at $86,350 for head-of-household filers. (For 2020, the 22% tax bracket for singles went from $40,126 to $85,525, while the same rate applied to head-of-household filers with taxable income from $53,701 to $85,500.)
How the Tax Brackets Work
Suppose you're single and have $90,000 of taxable income in 2021. Since $90,000 is in the 24% bracket for singles, would your tax bill simply be a flat 24% of $90,000 – or $21,600? No! Your tax would actually be less than that amount. That's because, using marginal tax rates, only a portion of your income would be taxed at the 24% rate. The rest of it would be taxed at the 10%, 12%, and 22% rates.
Here's how it works. Again, assuming you're single with $90,000 taxable income in 2021, the first $9,950 of your income is taxed at the 10% rate for $995 of tax. The next $30,575 of income (the amount from $9,951 to $40,525) is taxed at the 12% rate for an additional $3,669 of tax. After that, the next $45,850 of your income (from $40,526 to $86,375) is taxed at the 22% rate for $10,087 of tax. That leaves only $3,625 of your taxable income (the amount over $86,375) to be taxed at the 24% rate, which comes to an addition $870 of tax. When you add it all up, your total 2021 tax is only $15,621. (That's $5,979 less than if a flat 24% rate was applied to the entire $90,000.)
Now, suppose you're a millionaire (we can all dream, right?). If you're single, only your 2021 income over $523,600 is going to be taxed at the top rate (37%). The rest will be taxed at lower rates as described above. So, for example, the tax on $1 million for a single person in 2021 is $334,072. That's a lot of money, but it's still $35,928 less than if the 37% rate were applied as a flat rate on the entire $1 million (which would result in a $370,000 tax bill).